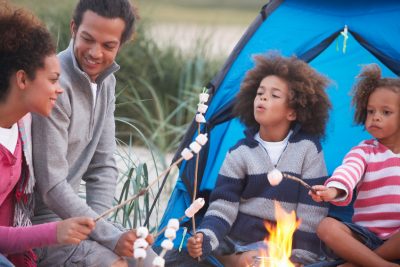 Every year, more than 11 million kids and adults attend some sort of camp in the United States. Those who are planning family camping vacations this year might be looking for ways to make better use of this quality time. Whether you have disinterested teenagers or young ones who just want to play on your iPad all day, you'll want to try the following three tips when you head to your family campgrounds this summer.
Make a meal together
No matter where you're staying this summer, you can connect with your kids by making a meal together. If you're cooking over a fire, this will be a brand new experience for them; if you're cooking in one of the cabin kitchens you'll find at family friendly resorts, it might be more familiar, but it'll still be a lot of fun! Plan for the meals you make ahead of time and take your kids' input into consideration. Consider making dishes that you might not otherwise eat at home or sweet summer treats like s'mores.
Teach them what you know
School may be out for the summer, but that doesn't mean that your children have to stop learning. Kid friendly vacations are a prime opportunity for hands-on learning, especially when they can see how these lessons help keep them safe or allow them to enjoy your trip even more. You can teach them how to start a fire, tie knots, identify plants and wildlife, follow a compass, fish, swim, and much more. Not only will these skills stay with them for years to come, but the memories you make together while teaching them will too.
Go to family camping resorts
Some families absolutely love to travel the country in an RV or get out the tent and sleeping bags. But others find that they want a happy medium between wilderness camping and staying in a hotel. Family camping resorts are ideal for these middle-ground trips. Your kids will get to experience all the wonders of nature while still having easy access to countless other activities. They can go to the splash park, play arcade games, watch movies, or see local attractions and spend lots of time in the great outdoors. It's a win/win for everyone, especially because no one will be able to complain that they're bored!

By following these tips, you'll be sure to have an unforgettable time with your family. To find out more about how our family camping resorts can make your summer trip a total success, contact us today!