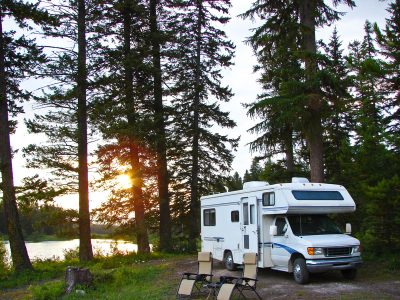 Are you looking for a fun and active family vacation? There's plenty of family fun to be had when you look at family campsites as a potential vacation. Whether you're pitching a tent, parking an RV, or renting a cabin, family campgrounds have many attractions. They're kid-friendly, may offer family activities, such as mini golfing, basketball, and volleyball, and provide the best of what nature has to offer in the way of hikes and places to swim. And who doesn't love enjoying a S'more underneath the starry sky or sharing spooky ghost stories around the campfire? You're sure to give your kids plenty of amazing memories by looking at family campsites as a potential vacation destination. It's the ultimate score for kid friendly vacations and may even give your whole family a chance to unplug for awhile.
Who's Heading for Campsites?
Camping can be enjoyed by just about any age group. In 2011, over 42 million Americans flocked to campsites. That same year, over 500 million days were spent camping (yes, even staying in a luxury cabin counts), and according to The Outdoor Foundation, almost 70% of those who responded to a survey said they used public campgrounds the most.
Fathers are the most likely figure to be seen with first-time campers. It can be a great father-son or father-daughter bonding activity! A quarter of those who go camping are 17 or younger and almost 15% are young campers, ages six to 12. Camping is also quite popular for retirees, who suddenly find themselves with free time and the resources to do so. Campsites may also be a popular destination for summer camps, outdoor groups, and other organizations.
What's There to Do While at Family Campsites?
Most people will hike at least once while they're camping — indeed, it's the most popular activity when one's camping! During a hike, you and your kids can take note of different flora and fauna to look up later and may even see a wild animal or two. Enjoy scenic vistas and bond going up difficult trails together.
Many campgrounds are also near bodies of water, so there are usually plenty of things to do in and around the water, such as boating, swimming, kite-surfing, etc. Some campgrounds may even offer water splash parks or giant water slides!
While the kids play in the water (under the watchful eye of the lifeguard), it's a great chance for you to set up shop on the beach or embankment, sunbathe for a bit, and catch up on reading or pure relaxation.
Some campgrounds may offer small concession stands if you need a quick snack and there's always the grill to whip out for a fun family meal. The novelty of camping gear is often exciting for kids, as they help set up and break down tents, cook cans of soup or other easy camping food over a hot plate or the campfire, and sleep out under the stars!
How Do I Choose a Campground?
You should first decide where you want to go. Are you looking to stay in your state? Do you want to travel out of state? If you can pinpoint the region you're interested in visiting, you can search and compare the campgrounds in that area.
How you're choosing to camp is also important. Some campgrounds may be very bare bones — you can pitch a tent, and that's about it. If you're looking for cabins or a place to park an RV, you should check out other options.
Some campgrounds may tout that they're family campsites, and if that's the kind of atmosphere you're looking for, definitely consider those more carefully. It could be a great place for your kids to make new friends and have a more communal atmosphere.
You should also be sure that the campground has the features you're looking for. Is there a body of water by the campground? What sort of amenities are available? How close is it to other attractions in the area? Checking out reviews and testimonials online can often help make your choice a simple one.