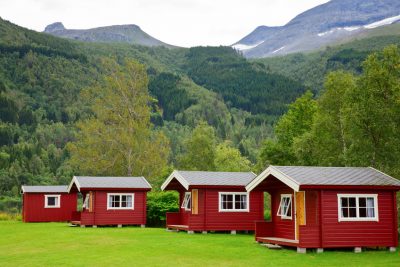 For the last century, Americans have loved to go camping. In 2011 alone, more than 42 million Americans went camping. It is an especially popular vacation activity for families, with fathers being the most likely person to take their child camping for the first time. Plus, family friendly campgrounds offer many opportunities for water-based activities, while some also offer mini-golfing, basketball, and volleyball.
But let's face it: roughing it while camping isn't for everybody. That's why cabin rentals at family campsites are often a great way to include everybody. If you do decide to book cabin rentals for your next family vacation, check out these tips for maximizing your camping experience in cabins:
Bring a Tent Anyway
The kids might get so excited that they will have to sleep outside, at least for a couple of nights. Or, you might decide to take an overnight hiking trip, or plans may change. If your kids make friends with other youngsters at your campsite, they may want to have a kids-only sleepover. The fact is that there is no harm in tucking the tent into the trunk, just in case.
Make a Menu Plan
Do the heavy lifting before you leave and make life a lot easier for yourself later. You might think that cabin camping means that cooking will be easier, but most cabins don't have kitchens or running water inside, so you'll still have to bring along your fire pit grate and camping stove. Fortunately, you can find tons of campfire and aluminum foil meal recipes on sites like Pinterest.
Lay out every meal and do prep work beforehand so you don't have to think about it later. Think easy, fulfilling meals like one pot chili, grilled cheeses, easy salads, and scrambled eggs.
Pack Warm
Again, cabin camping may mislead you to think that you'll be completely protected from the elements, but it isn't so. You'll stay dry, but that's about all we can promise. Make sure to pack lots of warm clothes, even in the summer! Higher altitudes might be colder, especially at night, and when a chilly front rolls in unexpectedly, you'll be happy it didn't catch you without your fuzzy socks.
Cabin camping is a great way to include everyone in your family during a camping adventure and can make those rainy days a lot more bearable. When you're planning your next family adventure in South Dakota, check out Sioux Falls Jellystone Park™ Campground's local campsites for vacation rentals, and start loading up the car.