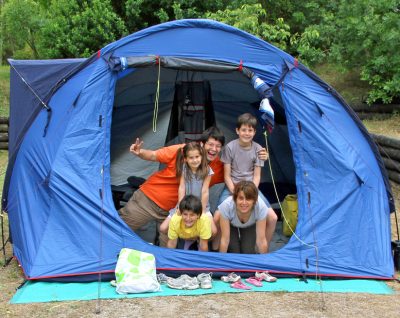 America has the most diverse geographical landscape on the entire planet, which is just one of the reasons camping is one of America's greatest pastimes and a popular family tradition.
Although dads are still the most likely person to take someone camping for the first time, the activity is a great one for the entire family. And the best part is that it's so easy to find a family camping resort that offers tons of kid-friendly activities. At Yogi Bear's Jellystone Park of Sioux Falls, you'll find family approved attractions like playgrounds, a heated pool, fire pits, an indoor movie theater, and more. In fact, it will be hard for the whole family not to have fun.
If you're on the lookout for the best family campsite, here are three of the top reasons people choose to visit our family camping resorts:
Swimming Pools
When you have a swimming pool at your disposal, you basically have a vacation. The kids can entertain themselves for hours, and adults can lounge luxuriously by the poolside. Plus, many resorts offer swimming lessons and fun activities for all ages.
Sports
At our family campsites, there are a range of sports facilities to use. Anything from volleyball courts to ping pong tables are available. Start up a family tournament and let the best player win! Playing sports is also a great way to make friends with other kids and families, as well as to learn new skills and to stay in shape.
Mini Golf
Mini golf is a great way to bond with your family and enjoy a vacation! Make a whole evening about it. Or, if you're feeling indulgent, play every night and work on your short game. Cap it off with a family ice cream outing before you head back to the campfire. Mini golf is also a great way of getting together with other families at your campsite, and it's just one of the many attractions you can see and explore at our family campsite.
If you aren't arriving in an RV, then cabins are also available to rent for your stay. This is yet another way to make a vacation perfect for everyone involved, since a cabin offers a perfect middle ground between a tent and a hotel. Staying in a cabin can also make a late summer or autumn vacation not only possible but perfect.
Spend the warm days in the pool and the cool evenings cozy and warm in a cabin with your family.